When Ruth-Anne Rigby heard about the Our HEALing Kitchen cooking class, she thought it would be a good opportunity to improve her meal preparation skills for herself and her family. What she realized in the first few weeks of the course is that it is so much more than that.
"Everyone is friendly here," says Rigby. "You make new friends, and now they're like family away from family."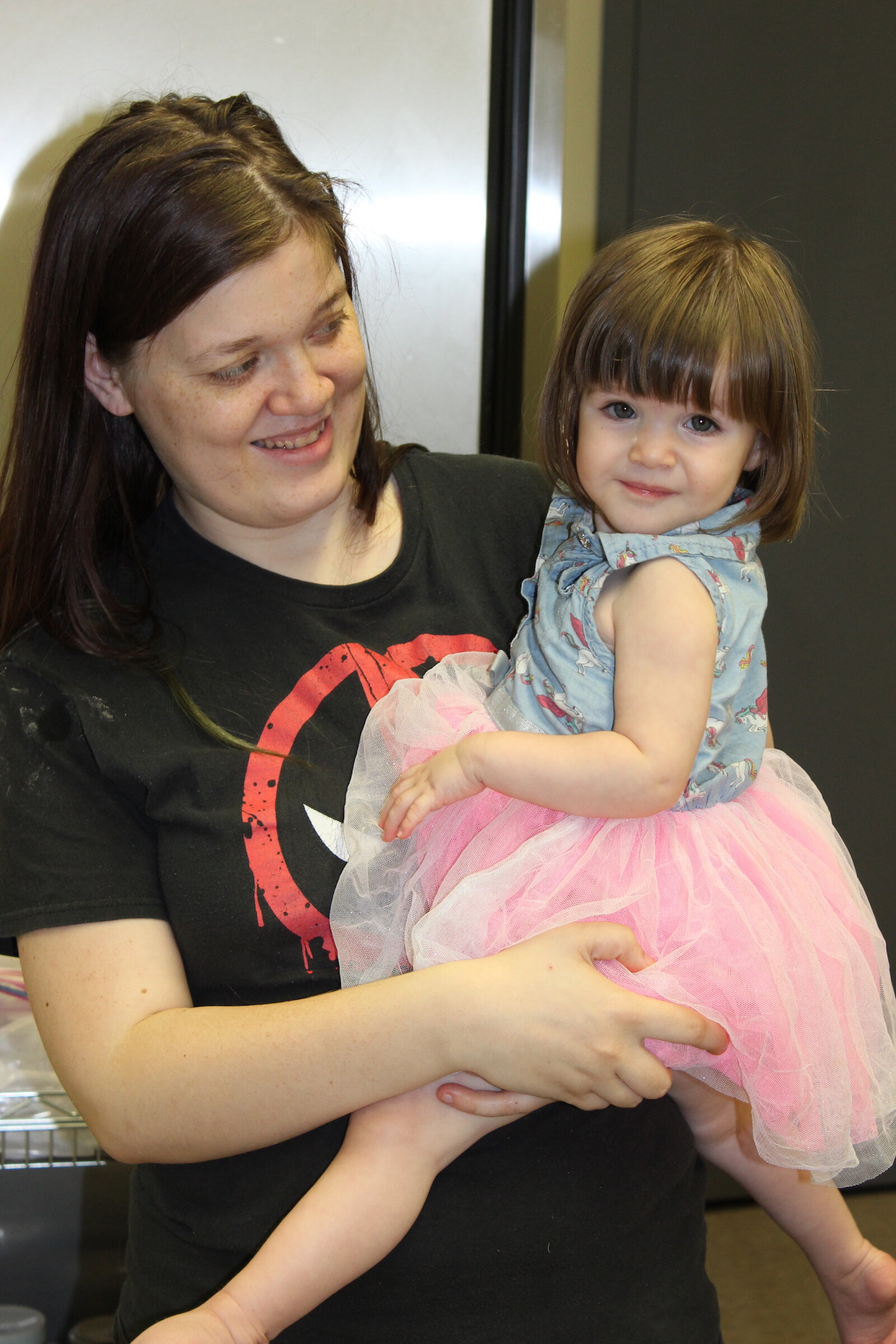 Ruth-Anne Rigby and her 18-month-old daughter wait for classes to begin at The Shepherd's Hand Community Outreach Center.
Rigby, her grandfather, and 18-month-old daughter began attending the cooking class at The Shepherd's Hand Community Outreach Center at 1231 S. Anthony Blvd. in Fort Wayne in early October. Each week, the free two-hour course begins with a guided lesson created by Parkview Health nutritionists. Next, they move on to a hands-on activity that ends with a healthy food giveaway. Then they head to the kitchen to work through this week's healthy recipe and actually cook it. The last step is to get together as a class to eat what they created.
The Shepherd's Hand is one of 14 organizations hosting Our HEALing Kitchen cooking classes this year. The courses are made possible through grants from the St. Joseph Community Health Foundation in partnership with Parkview Health and are designed to provide a wide range of benefits to the Fort Wayne community, from access to food to preventative health care and economic stability.
Michelle Bojrab-Wray, Lead Community Outreach Dietitian at Parkview Health, and Kathy Wehrle, Community Nutrition Consultant, co-wrote the curriculum. The St. Joe Foundation helped design and produce the class materials and participant guides for easy reference and access to recipes.
At the most basic level, the courses increase access to nutritious food and awareness of the importance of healthy eating.
"Nothing has such a profound effect as what we put into our bodies," says Wehrle. "How you perform, how you think, how you feel in everyday life is very specifically related to your health habits."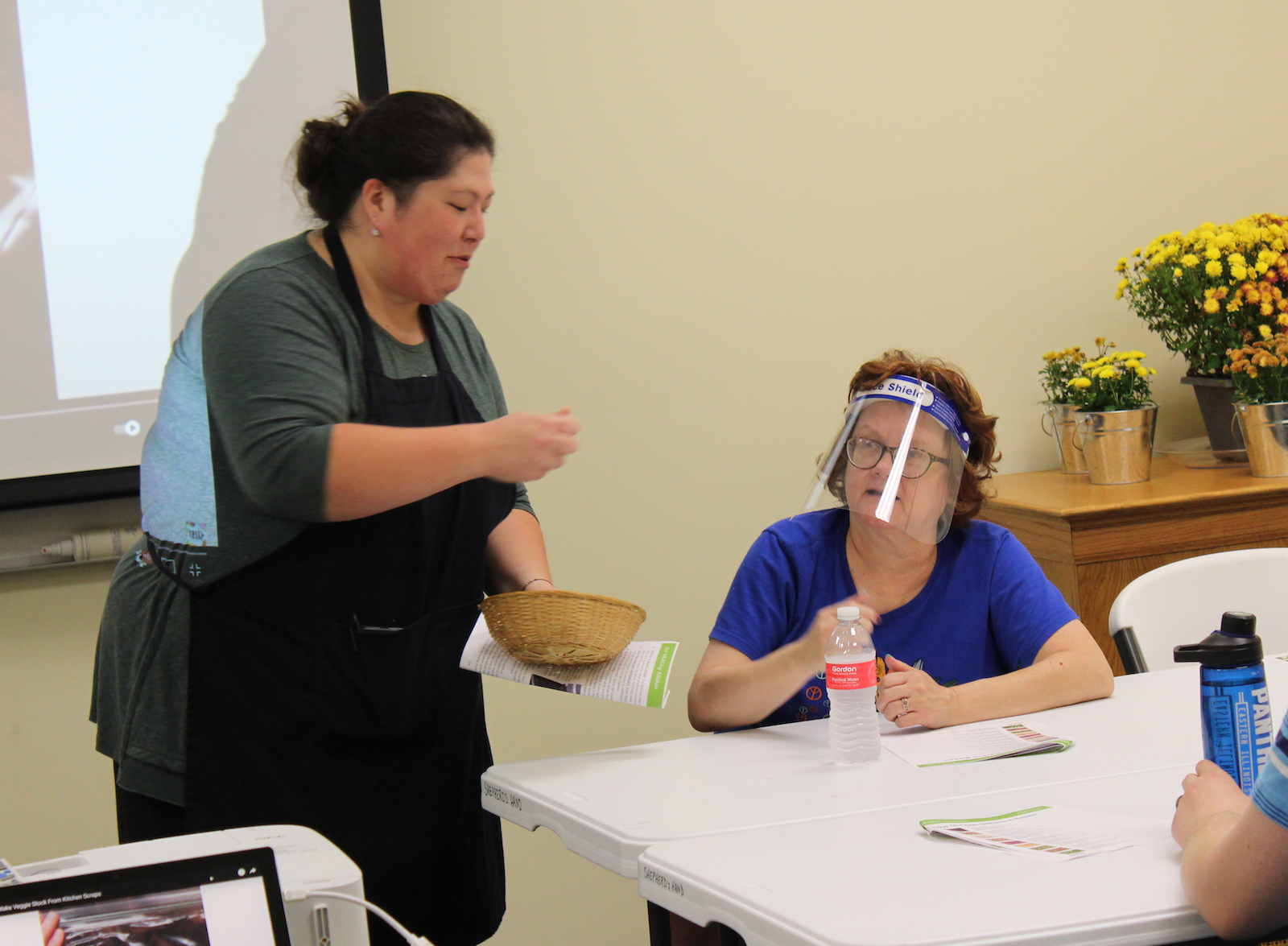 Kim Trombley announces the name of the winner of a healthy food giveaway during Our HEALing Kitchen class at Shepherd's Hand.
Not only do the cooking classes help participants reflect on their health individually, programs like these could also help reduce the economic burden on the healthcare system from common chronic diseases. According to the Centers for Disease Control, 90 percent of the $3.8 trillion in annual healthcare spending in the United States is spent on people with chronic and mental illnesses. If you break it down, heart disease and stroke account for $214 billion, diabetes accounts for $327 billion, and obesity costs the US health care system $147 billion each year.
"As we see chronic diseases on the rise, one of the biggest factors in all of these chronic diseases is diet," says Bojrab-Wray. "The way we eat can improve our overall well-being and the future of our health."
Childhood obesity in particular has been a problem in the US for decades and has been exacerbated by the COVID-19 pandemic. The rate of increase in body mass index in children ages 2 to 19 almost doubled during the peak of the pandemic, according to a new report from the CDC. The CDC cited disrupted routines, school closures, reduced opportunities for physical activity, and poor diet as possible causes.
Bojrab-Wray hopes that our HEALing Kitchen cooking classes will help children and their parents adopt healthier eating habits so they can avoid major health problems later in life.
"Healthy children now mean a healthy future for all of us," says Bojrab-Wray. "Research has consistently shown the benefits of ensuring a child is well nourished, especially in the first thousand days of life. It has the greatest impact on their overall health."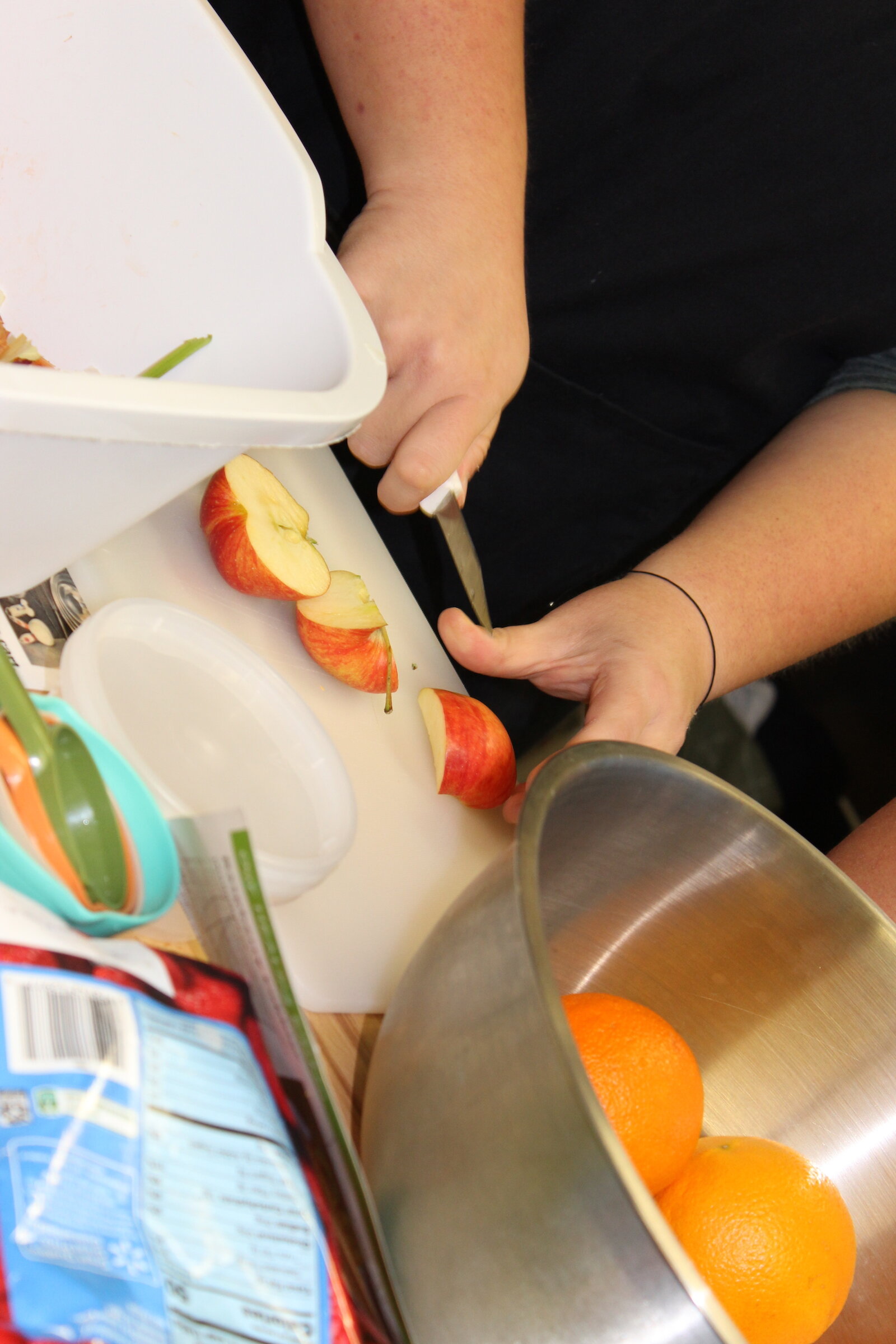 Participants cut carrots at Our HEALing Kitchen class at Shepherd's Hand.
Mary Tyndall, who oversees the St. Joe Foundation's nutrition program relationships, confirms this trend from the CDC at the local level. She also notes that research from the American Academy of Pediatrics suggests that pre-existing obesity disparities have also widened in terms of race and ethnicity, insurance, and neighborhood socioeconomic status during the pandemic.
As such, Meg Distler, executive director of the St. Joseph Community Health Foundation, says a key focus of the Our HEALing Kitchen classes is to help people in low-income neighborhoods who have barriers to access grocery stores and nutritious products. The curriculum provides participants with practical tips for grocery shopping on a budget, especially in areas where access to fresh, healthy food is limited.
"Our goal is for everyone in the community to have access to healthy food and an opportunity to learn how affordable, delicious, and healthy meals can become an easier part of their lifestyle," says Distler.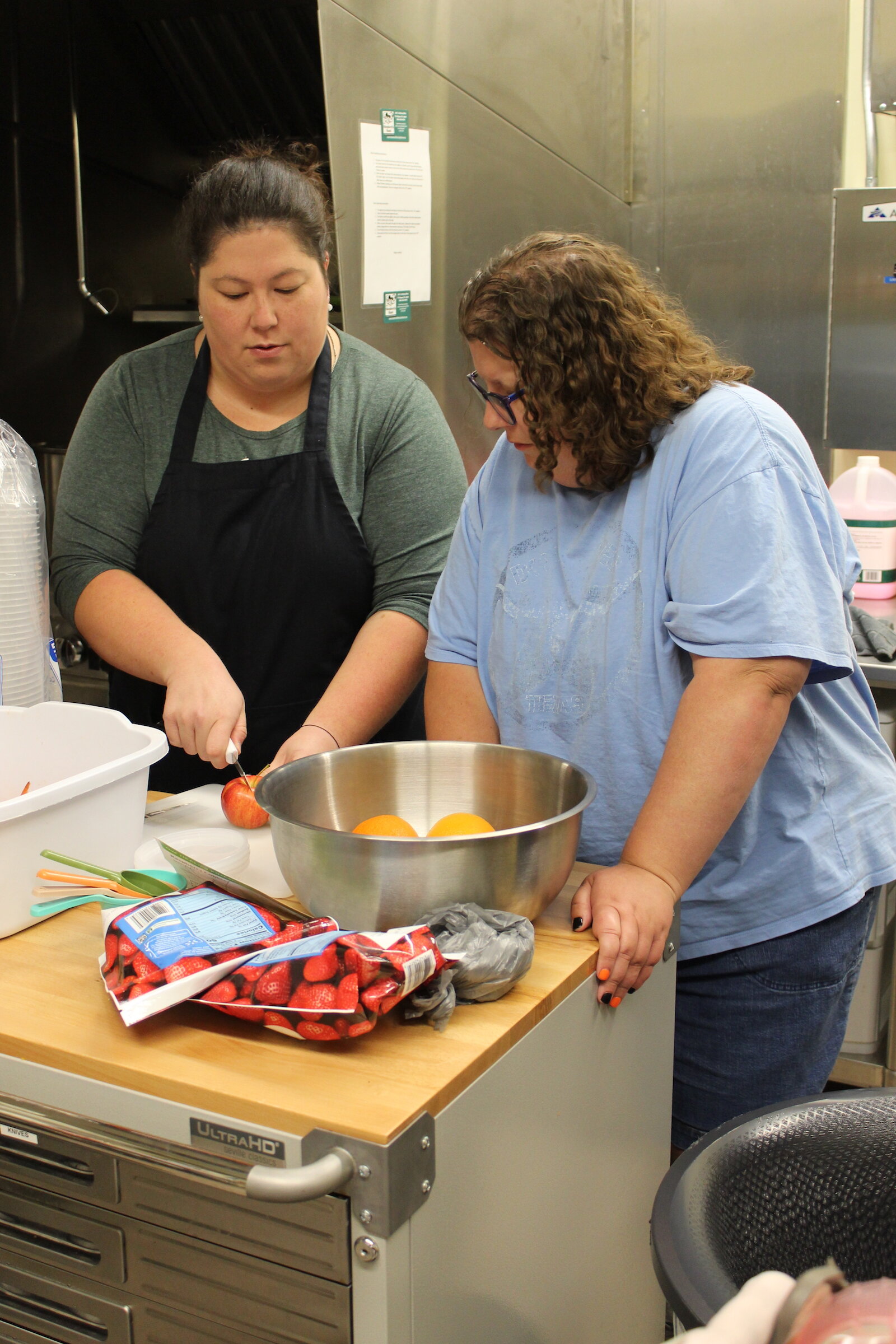 Kim Trombley works with fellow student Kalisha Doty as they cut apples at Shepherd's Hand prior to the Our HEALing Kitchen class.
Our HEALing Kitchen cooking classes are offered by several youth-focused organizations, like the YMCA and Fort Wayne Community Schools, as well as organizations like Shepherd's Hand, which are open to people of all ages. Kim Trombley, Executive Director at Shepherd's Hand, is facilitating the cooking class there as a Christian organization that provides health, education and life wellness services for adults and children. Trombley says the classes are a great way to teach people how to cook affordable meals with healthy ingredients, while also giving them a safe space to expand their palette.
"It removes the barriers of the unknown," says Trombley. "It exposes you to things that you might not pick up yourself at the supermarket. But to see what you can do with it and then try it in an environment that isn't threatening, that's really open and welcoming. I think that's really important."
As a participant, Ruth-Anne Rigby hopes her own daughter and family can enjoy a healthier future, and the cooking classes at The Shepherd's Hand have helped them take the first step.
"[My daughter]has a weight problem," says Rigby. "She struggles to gain weight, so the more she eats, the better she gets. It helped her to try new things and see more people in the class."
Learn more
For more information on the Our HEALing Kitchen courses, visit the St. Joseph Community Health Foundation website.