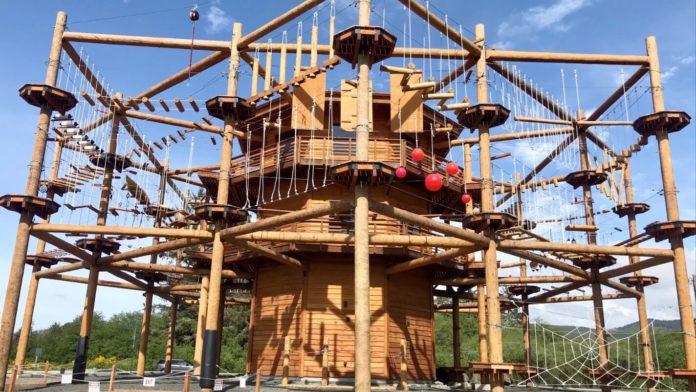 Resembling a cross between a giant birdhouse and a colossal baby mobile, this odd wooden structure is High Life Adventure Parks Aerial Challenge Course in Seaside Oregon. The course is part of a trend of elevated obstacle courses designed to test participants' strength and balance, forcing them to complete a series of athletic challenges while simulating the fear of falling.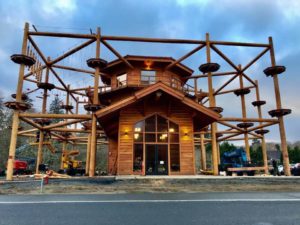 High Life Adventure Park at Seaside
Aerial Challenge Course owners David and Lancey Larson opened the course in March 2020 as a companion facility to their High Life Adventures Zip Line Tour in Warrenton. A born adventurer, David discovered his passion early on when he was 14 and built his first zipline, crossing a canyon in his hometown of Astoria, Oregon.
When they started offering their own zipline tours in 2012, the couple immediately noticed a demand for more. People weren't satisfied with the one experience. They wanted another adventure to lead themselves through, so David and Lancey bought property in Seaside and founded Highland Adventure Park to fill that demand.
Located just off Highway 101, the Aerial Challenge Course was designed to push people well beyond their comfort zones. Participants can cross a suspension bridge or free fall from extreme heights without actual danger. It is an exciting concept and a unique experience that can only take place in a simulated environment.
The course is also designed to challenge participants' athletic abilities and push their bodies to the limit. Many of the obstacles are not easy to overcome and there are different levels of difficulty to choose from. The course is easiest to complete for children who are allowed to participate at the lowest levels. At its toughest, the course tests even experienced athletes, forcing them to push through, always taking the risk of falling – of course, falling is part of the fun. It will produce an unrivaled high of endorphins that will satisfy any adrenaline junkie.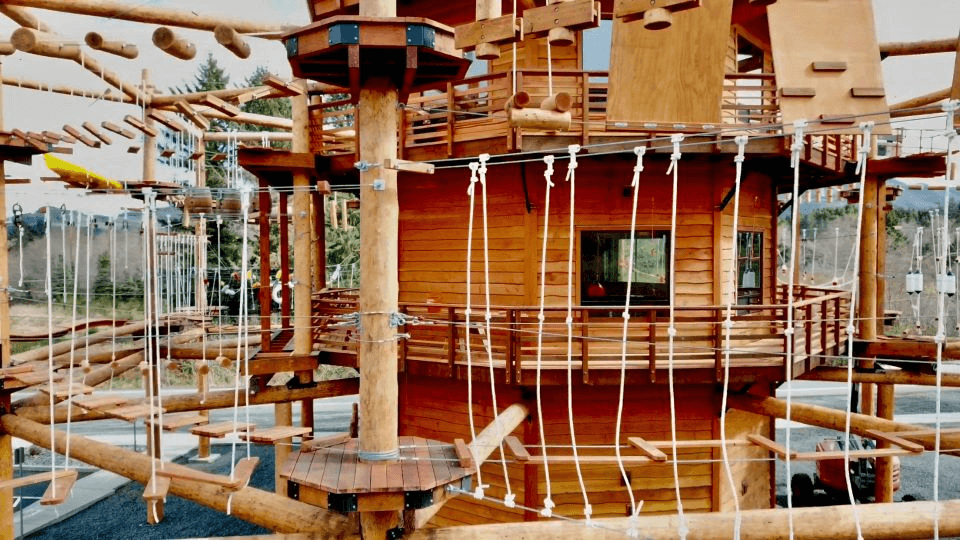 parking functions
In an effort to preserve Oregon's prized coastal forests, High Life Adventure Park was constructed entirely of timber milled from the land on which it stands. Everything from the lobby to the support beams was sourced locally, meaning no additional trees were felled, only those that fell when the property was cleared.
At first glance, the Aerial Challenge Course is difficult to understand. It looks like some kind of complex device built from an endless series of ropes and logs. How does it work? Is there a rhyme and reason for this, or is it just a random mishmash of obstacles?
The truth is it's a little bit of both. The participants should make their own experiences. We want you to feel like there's a lot to explore, so the course has been built to feel random and overwhelming while following an overall pattern.
High Life Adventure Park's Aerial Challenge course can be divided into 4 levels ranging from 20 to 40 feet above the ground. Luckily, parents don't have to worry about the height. There is a lower level for children aged 4+ and there is always someone around to help. Each level is an octagon that protrudes from the main structure in the center and is connected by more than thirty platforms. The goal of the participants is to travel from one platform to the next, overcoming obstacles in order to make their way around the octagon.
The course isn't easy – well, some of it is, but those who opt for the full experience can expect some difficulties along the way. There are more than fifty different types of obstacles. There are swinging logs suspended from ropes, each spaced so far apart that participants have to jump from one log to the next. There are high ropes with grab handles, wooden bridges and nets for climbing. The list goes on and on. The result is a mixture of weird, terrifying and challenging. It's especially fun for groups because they can watch their friends and family struggle through and inevitably fall. Others will challenge each other to races and show off. The course is fun for different people in different ways, but they all seem to find some enjoyment in it.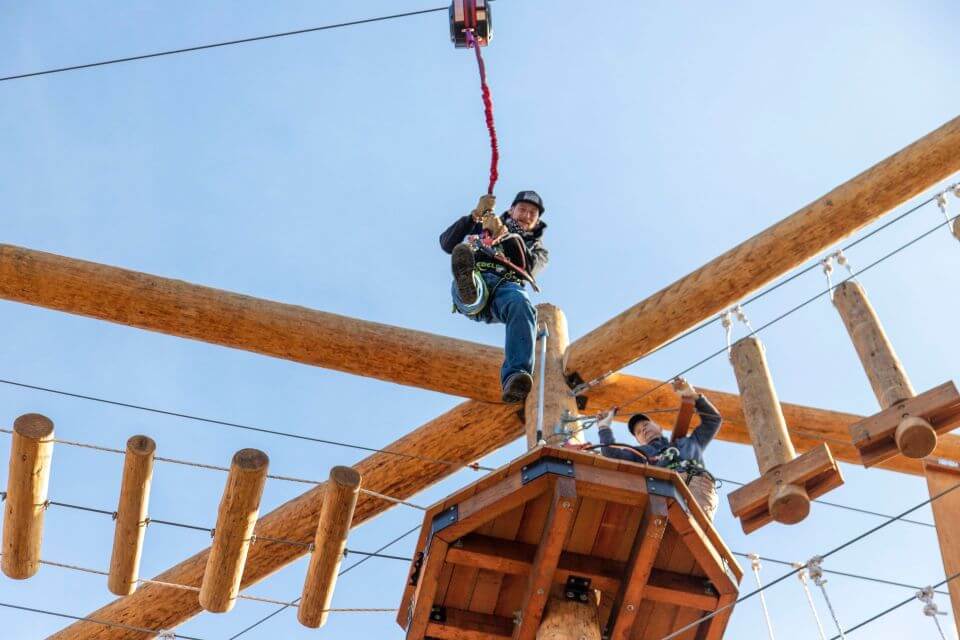 The freefall
The High Life Adventure Park markets its course as a sporting challenge, and that's true. But we all know that the real thrill is the fall itself and the fear of falling. There's nothing quite like a 40-foot wipeout, especially when trying to maneuver over rain-soaked logs. It's the excitement and the rush that grabs you. will you lose your balance Will your muscles give out and what will it be like if you fall?
High Life Adventure Park has put a lot of effort into simulating the perfect drop. The participants have two options. There's the TruBlue, a device that adjusts to the participant's weight so kids and adults can experience their fall at the same rate of descent. At the bottom, the rope pulls back, causing them to jump easily. Then there is the QuickFlight Free Fall Device. It's the ultimate thrill, designed to simulate the same feeling of weightlessness participants would experience without the rope.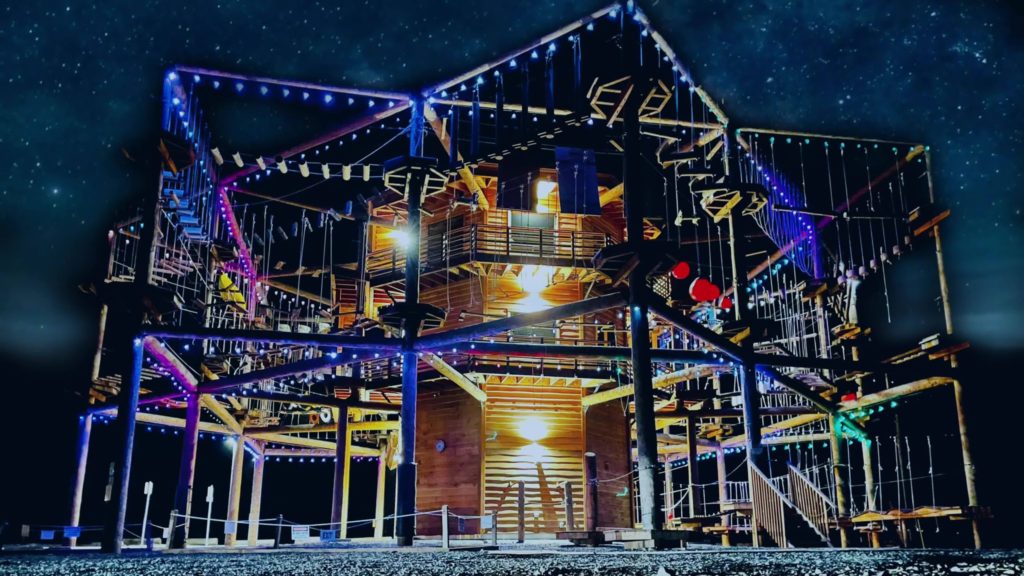 night climb
The Oregon coast is not known for having the most hospitable climate. Wind and fog pose a serious challenge for High Life participants, especially when trying to balance on a slippery log or wet rope. As if that wasn't enough, contestants must now contend with a new natural element: darkness.
In November 2021, High Life Adventure Park filled with glowsticks and strings of rainbow LEDs so they could open their doors for Night Climb. It's an epic, thrilling adventure for advanced climbers looking to up their game and add a little simulated danger to their nightlife.
Prepare for your journey
Visitors to Seaside are often amazed when they pass High Life Adventure Park's Aerial Challenge Course. It's easy to see why, with its hanging barrels, a kayak, ropes and nets. Children often ask their parents to stop and let them play. This is one of the reasons why the course is so popular; Everyone wants to take a look, and they're often willing to whip out their wallets when their kids are excited.
Because the park is so popular, High Life recommends visitors call ahead and reserve. They don't mind walk-ins, but they're way too busy to guarantee openings. It's not uncommon for disappointed visitors to stand aside when they find there aren't any open slots, especially during Spring Break season when Seaside is inundated with tourists. If you are planning to visit High Life Adventure Park during spring break, it is best to reserve a spot 1-2 months in advance. A month should be fine in the off-season, but don't be surprised if your schedule is packed.
What to expect
When participants arrive at the park, they are greeted by a group of guides who lead them through a basic safety briefing they call ground school. Each participant is given a harness and a belay system designed to stop the rope and prevent them from hitting the ground if they fall. Leather utility gloves are sold separately but are highly recommended. The ropes can be slippery and hard on hands.
The guides are stationed at each platform. They are available to provide advice and assistance to participants throughout the course. They also enforce the rules and regulate how many participants maneuver each obstacle. They are well trained in air equipment and safety procedures. Her presence on the course ensures everyone lands safely if they fall.
Participants must arrive 30 minutes prior to their scheduled booking. At the time of writing, the ticket price is $69 for children 7 years and older and $39 for children 4 to 7 years old. Gift vouchers are available at the same price. Each reservation lasts 2 hours, which is more than enough time to get your bearings and enjoy the experience.
Who can participate?
When Highlife Adventure Park Opened Seaside, the Aerial Challenge Course was only suitable for children over 8 years old. They now have a section for 4-8 year olds at the lowest level where children can be introduced to obstacles in a safe environment with their help parents and a guide. Children aged 8 to 12 must be accompanied by a parent who accompanies them on the course. You must weigh at least 44 pounds and be able to reach 60″ or taller. At least one accompanying adult must be present for every two children. For children between the ages of 13 and 15, at least one adult must be on the premises. Participants aged 16-17 may participate without the presence of an adult as long as they have written permission from their parent or legal guardian. All participants must be able to wear the harness to manufacturer specifications and anyone weighing over 285 pounds is not allowed to participate. The park encourages potential attendees to contact them with questions about minimum requirements before making their reservations.
group events
High Life Adventure Park offers group bookings and discounts. They are perfect for birthday parties, bachelor and bachelorette parties, and family reunions. They are great for corporate events because of their team building exercises designed to encourage communication, build confidence and improve problem-solving skills.