Known as the "Silver State," Nevada is a natural beauty matched only by its attractive cultural centers and people. This mountainous desert state is a must for any traveler to the western United States, and with nearly 300 days of sunshine a year, there's never a bad time to visit. Nevada is the perfect blend of cultural wonder and natural beauty, popular with professionals, retirees, families and tourists. This article looks at the 10 most beautiful cities in Nevada.
Henderson
Henderson is the second largest city in Nevada and has a population of just over 320,000; only about 16 miles from Las Vegas, Henderson can actually be considered a suburb of "Sin City". Located in the Las Vegas Valley at an elevation of 1,864 feet, this city is popular with many for its relatively low crime rate and warm climate. Essentially, Henderson offers all of the major Las Vegas amenities but in a quieter and less crowded setting. Home to a variety of hiking trails, bike trails, golf courses and lake activities, Henderson is a great location for those seeking a Las Vegas escape while still enjoying the Nevada lifestyle. With a stable housing market, top-notch schools and, of course, sunny weather, this city ranks among the best metropolitan areas in the Silver State.
Spark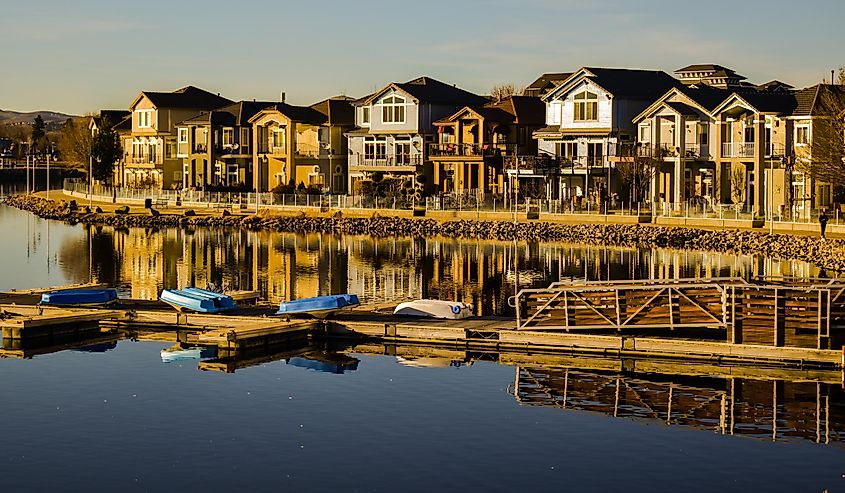 Nevada's fifth most populous metropolitan area, the city of Sparks has a population of 108,445 and experiences very hot summers and mild winter temperatures. Sparks, a historic city founded in 1904 and named after former Nevada Governor John Sparks, is now a mid-sized center for culture, arts, and natural beauty. Attractive for its affordable housing market, modern amenities and plenty of green space, Sparks appeals to aspiring professionals, retirees, families and single households alike. As part of the greater Reno area, one can truly enjoy the best of big city living in a smaller and more intimate setting.
Reno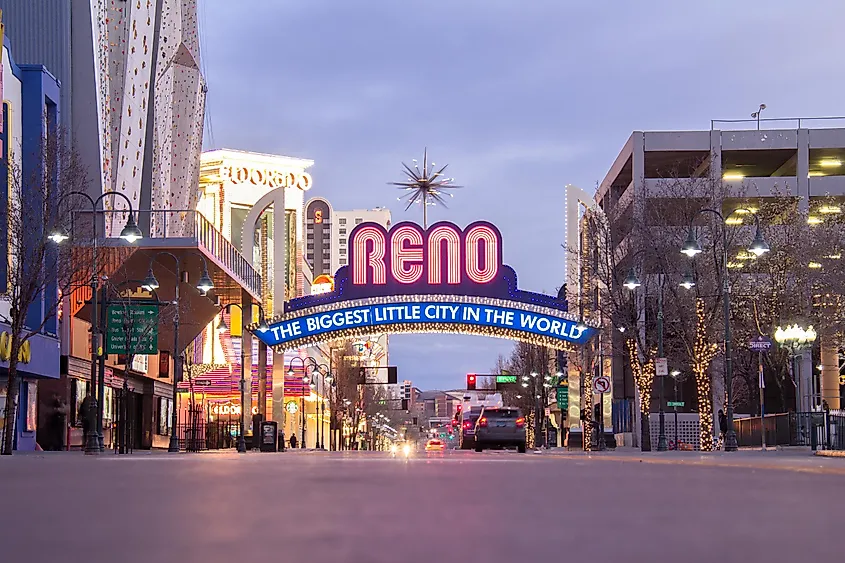 Located just 22 miles from the shores of Lake Tahoe, the city of Reno is well known for its tourism and gaming industries and is one of Nevada's best known urban centers. Informally dubbed "The Greatest Little City in the World," Reno is home to a modest population of 264,165, but offers plenty of excitement and natural wonders on a grand scale. Surrounded by the mighty Sierra Nevada Mountains, outdoor lovers will enjoy their time here with Lake Tahoe a short drive away and the magnificent Truckee River. For those who prefer a more cultural experience, Reno is also home to museums such as the Nevada Museum of Art and the National Automobile Museum, with its impressive collection of over 200 vintage cars. And with its proximity to the California border, this city is an excellent gateway to the "Golden State".
Las Vegas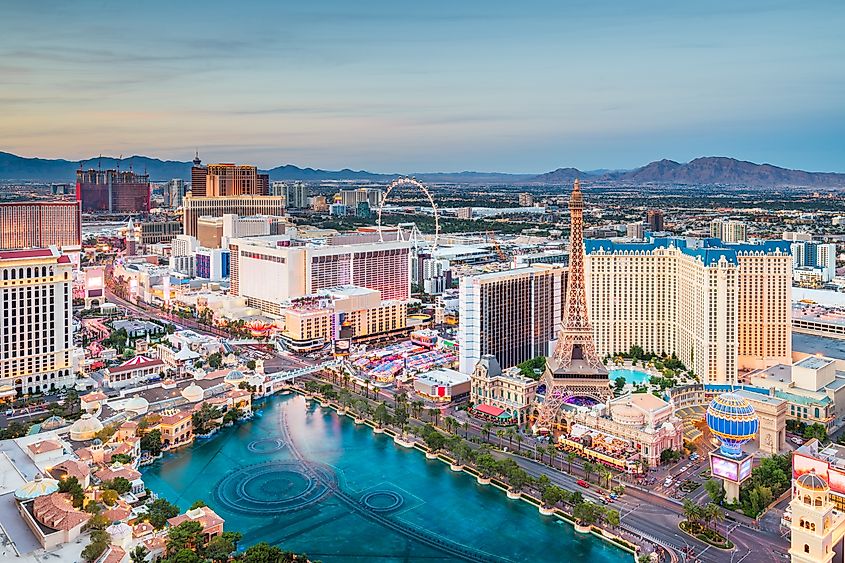 One of the most famous cities in the world, Las Vegas is a veritable mecca for lavish entertainment, magnificent architecture and, of course, a thriving gambling industry. Although known as "Sin City," Las Vegas is more than just a haven for adult entertainment. but is a true testament to human ingenuity and unlimited imagination. Home to famous hotels like Caesar's Palace, The Bellagio, The Luxor, Treasure Island and many, many more, Vegas also offers world-class restaurants, casinos, museums, galleries and much more theatre. Outside of The Strip, this city of 642,000 offers a diverse range of cultural activities, beautiful parks and lots of sunny weather. As the premier economic center of Nevada, Las Vegas and its residents have worked hard to shake off the image of yet another "gambler's paradise." Instead, the city has evolved into a true cultural wonder with something for everyone.
Mogul
Just a short drive from the city of Reno, Mogul is a charming community with a truly picturesque feel. Located in the Truckee Meadows Valley, Mogul is surrounded by the Sierra Nevada peaks. It's another place where visitors and residents can enjoy all the amenities of a larger city but in a quieter and less crowded center. This city also offers a low crime rate and affordable housing and is a great place to enjoy the great outdoors, especially camping, biking and hiking. While its name can also mean a wealthy and influential person, Mogul is a welcoming place for people from all backgrounds.
electrolytic cap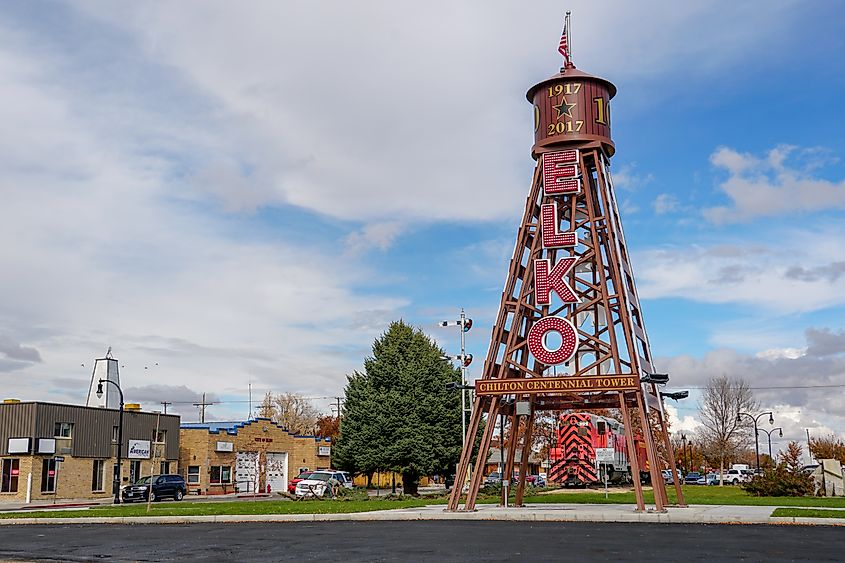 Known as "The Heart of Northeastern Nevada," the town of Elko is a true slice of iconic Western lifestyle where beautiful mountain views frame its borders. Located in the Ruby Valley, near the peaks of the Ruby Mountains and breathtaking Lamoille Canyon, this city of nearly 21,000 people is home to outdoor adventures. In addition to the mountainous neighbors within Elko, ample parkland and easy access to enchanting alpine lakes and the Humboldt River provide visitors and residents alike with plenty of nature to appreciate. With its hot summers and mild winters, those in Elko enjoy hiking, biking, swimming, skiing and even wildlife hunting in an extremely tranquil desert environment. And with an affordable housing market, the city is growing in popularity as the destination of choice for those looking to relocate to Nevada.
slope village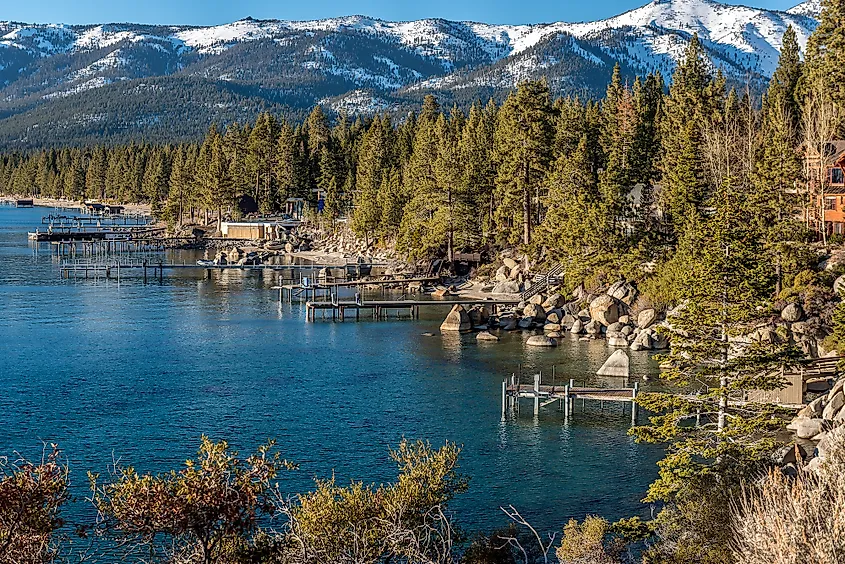 Located near the Sierra Nevada Mountains and on the north shore of Lake Tahoe, Incline Village is a natural delight any time of the year. With its breathtaking panoramas and moderate temperatures, this city of nearly 10,000 people is highly desirable and has one of the most expensive housing markets in America. Located near the California border and just 35 miles from Reno, Incline Village attracts tourists from around the world and is also home to the University of Nevada Reno. And with its truly stunning natural views and relatively tranquil vibe, it's not hard to see why this is one of the most beautiful spots in the state.
Boulder City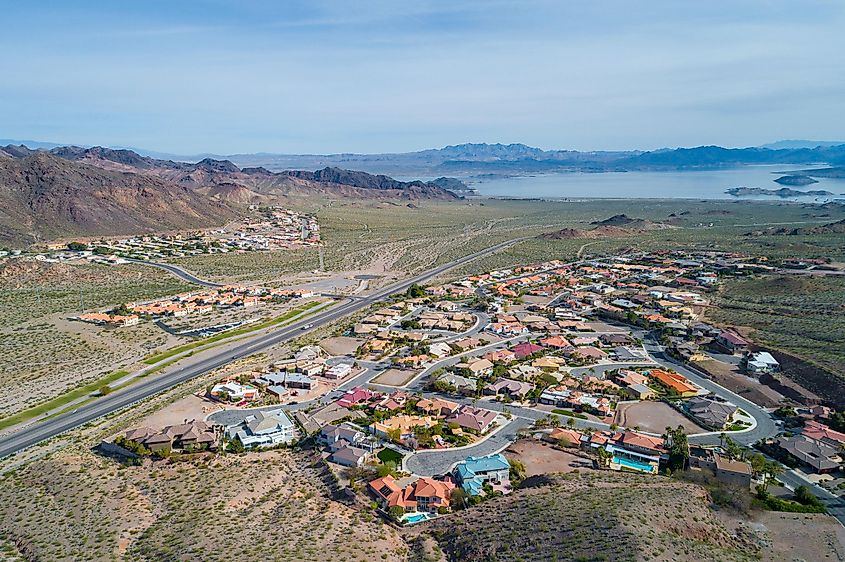 Although only 26 miles from Las Vegas, Boulder City is illegal to gamble in! But there's a lot more entertainment in this city of 15,000. Located in Clark County, Boulder City is the closest metropolitan area to the famous Hoover Dam, where a short 15-minute drive takes visitors to the iconic structure. With sweltering summers averaging nearly 40°C, Boulder City is indeed a great place to enjoy outdoor activities too, but beware the sweltering heat. Located near Lake Mead Reservoir, tourists in the area can camp, bike, sail, and enjoy many scenic vistas where shade is always coveted. Due to its low crime rate and proximity to other cities like Las Vegas and Henderson, Boulder City is a welcome place to visit, or maybe even a home.
mesquite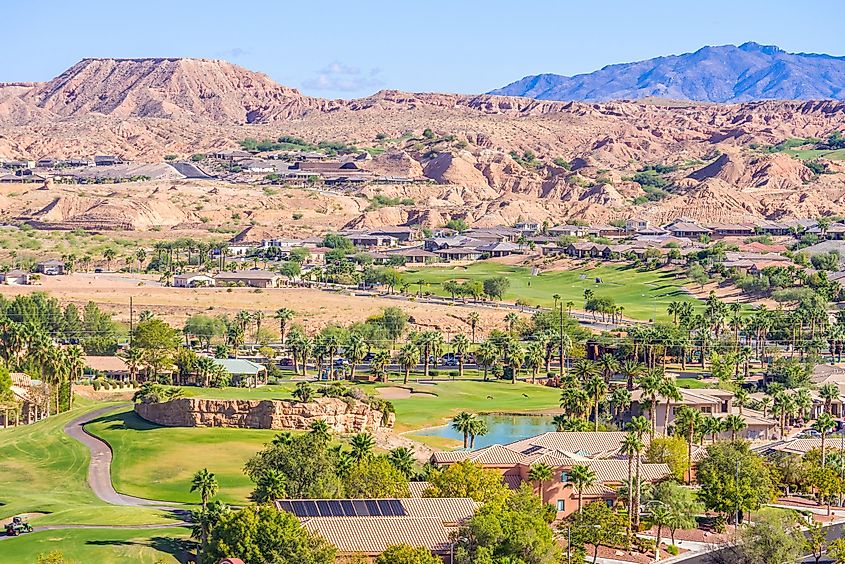 Located right on the Arizona border, just 90 minutes' drive from Las Vegas, the town of Mesquite is a popular destination for retirees. Frequently rated by local outlets as one of the best places to retire in Nevada, Mesquite is home to several world-class golf courses and casino resorts, and a low crime rate. First settled by Mormon pioneers in the 1880s, the city is situated on the Virgin River Valley surrounded by the Virgin Mountains. Part of the Mojave Desert, Mesquite experiences warm winters and scorching summers, and while spending time outdoors is always popular, visitors should know how best to protect themselves from extreme temperatures. A true desert hotspot, both literally and figuratively, Mesquite is a wonderful city to explore and enjoy.
Carson City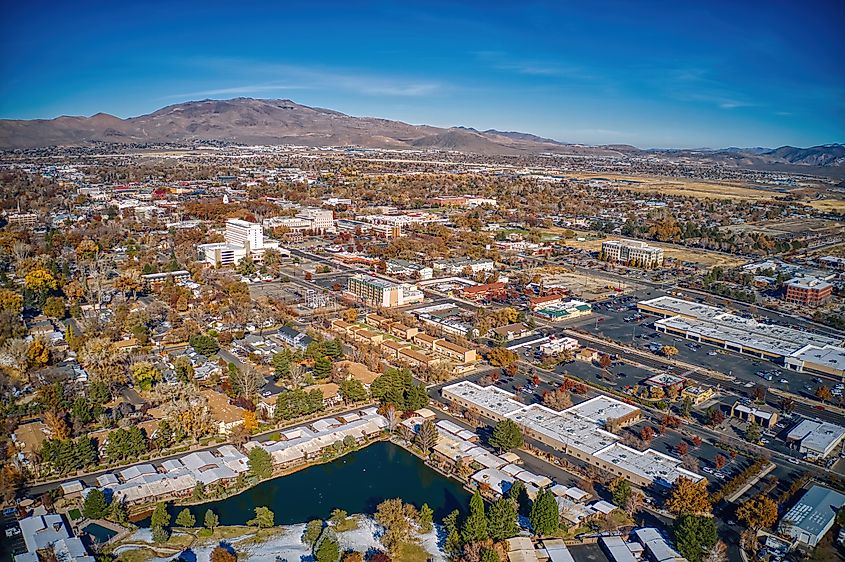 Surprisingly overlooked by visitors to the state, Carson City, the capital of Nevada, still offers countless beautiful views and an enchanting history. Located near the Carson Mountain Range and Eagle Valley, Carson City is a stunning mountain town with awe-inspiring views and beautiful hiking trails. With its typically hot desert summers and temperate winters, Carson City even has some unique beach areas for relaxing and swimming. But apart from its natural beauty, this city of 58,639 people also offers many fascinating historical and cultural attractions. Visit the Nevada State Museum, the excellent Nevada State Railroad Museum, or simply tour the majestic State Capitol Building, completed in 1871.
Blending history and nature, Carson City is a must-see for anyone in the great state of Nevada. Nevada is one of the great treasures of the western United States. With its glorious sunny vibe, beautiful natural landscapes and vibrant cultural scene, it's no wonder many flock to its borders. These ten beautiful Nevada cities are a great place to visit or maybe even live. They are wonderful snapshots of the splendor of the "Silver State".